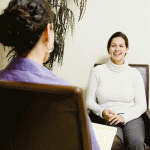 English-language counseling for expats living in Hungary
I offer a hands-on, practical, cognitively based approach to help you determine problem areas in your life and come up with workable solutions to them. I specialize in short-term psychotherapy to offer timely assistance with your difficulties.
What kind of people go to counseling?
I deal primarily with English-speaking adults who are facing difficult times abroad. Most of my clientele are healthy people struggling with situational difficulties, but I also have experience working with depression or anxiety. I am particularly familiar with the emotional pressures surrounding pregnancy, childbirth and life with small babies, and difficulties arising from mixed culture families.
How long do most people stay in therapy?
I specialize in short-term cognitive-behavioral therapy that addresses current problems, behavior modifications and changing negative cognitive patterns. Most of my clients stay for 10-20 weekly therapy sessions before we conclude therapy, but I also do less frequent, maintenance-type consultations with individuals who request it.
What are your qualifications?
I am a Hungarian-American native speaker psychologist with degrees from UC Berkeley and Cornell in Psychology. I also trained in cognitive and behavior therapy methods at Semmelweis University and VIKOTE's joint program.
Being a psychologist, I cannot prescribe medication, but if necessary, I am able to refer you to local English-speaking psychiatrists who can.
How do Skype sessions work?
Consultations are 50 minutes long. Sessions may be scheduled flexibly once or twice a week, or once or twice a month, based on individual need.
For Skype sessions, you will need a working internet connection on a computer equipped with a microphone and a camera. At the agreed upon time, you initiate the call to me. We converse through Skype, then I send you an invoice via PayPal for services rendered.
Regular session
60 minutes long

Once a week / 4 times a month

Payment by PayPal or bank transfer

Other currencies accepted (USD, CAD, EUR, etc.)
Extended session
90 minutes long

Every other week / 2 times a month

Payment by PayPal or bank transfer

Other currencies accepted (USD, CAD, EUR, etc.)